China City
Posters
Treatment
"A Wave is Coming...."
CHINA CITY, a 60 plus minute krimi, is a new kind of film. Shot primarily on digital video by contemporary artist Frances Scholz, CHINA CITY stars museum director Kasper König and "surveillance artist" Julia Scher in a strange and dark story of creativity, longing and resistance.
A mysterious wave is coming. Legendary curator Kasper König -- whose position has so far allowed him to enjoy a very special relationship to the law -- goes renegade. He steals a priceless vase from the Asian Museum in plain daylight.
Is the Museum Director a thief, or has he simply redefined what it is to be a curator?
As a nameless transported L.A. detective (Julia Scher) walks the labyrinth of her own surveillance of König, she discovers the vase itself might just belong to the international "evil doctor" Fu Manchu. Has König has let out a genie? In fact, genies seem to be multiplying....
Improvised off a screenplay written by science fiction author and philosopher Mark von Schlegell (M.I.T./Semiotext(e)/Merve Verlag), on-location shooting puts the constantly changing light of a Cologne international cultural scene to work in a symbolic film noir fraught with mystery and suspense. Constructed according to principles of dogma and guerilla cinema, employing the low-budget fluid technology of the 21st century, CHINA CITY is not only a docufable from a moment of historical and cultural transition in the contemporary art world, it's an ambitious crossover from the avant-garde into traditional film storytelling. With cameos from Hollywood personalities (Paul Giamatti), German Krimi actors (Sabine Postel, Christine Urspruch), avant-garde heroes (Jonas Mekas), conceptual artists (Dan Graham) and a charismatic star whose time has come (Kasper König), CHINA CITY inaugurates a new and fruitful 21st century cinema -- raised by collaboration, digital technology, and the creative crossing of the boundaries between art and life.
Stills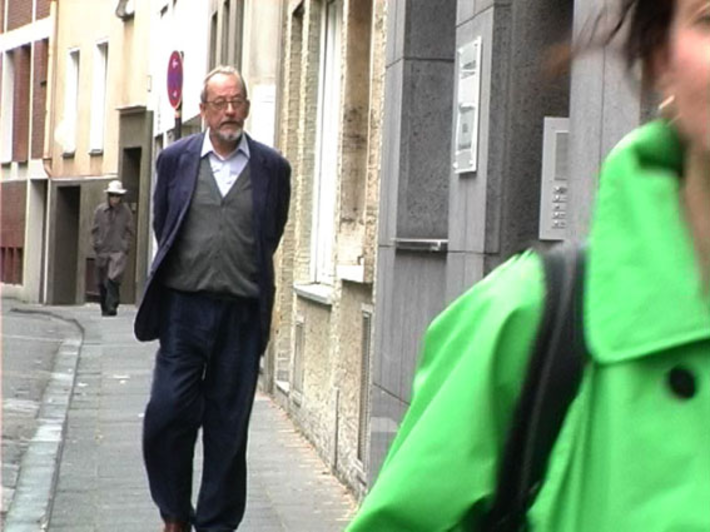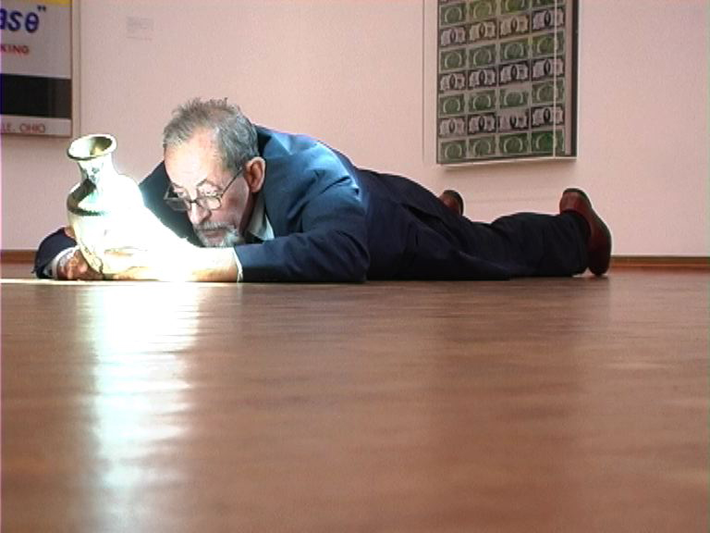 Credits
A Film by
Frances Scholz
Starring
Kasper König
Julia Scher
Special Guest Star
Paul Giamatti
Screenplay
Mark von Schlegell
Julia Scher
Production
stop/the/bus productions
Camera
Frances Scholz
Jan Höhe
Julia Scher
Mark von Schleggell
Score
Andreas Reihse
Music
E*Rock
The Warnings
Editing
Frances Scholz
Mark von Schlegell
Postproduction Assistance
Jan Höhe
Jonathan Maho
Selim Sevinc
Signage
Julia Scher
Catering
Kasper König
Cast (in order of appearance)
| | |
| --- | --- |
| Julia Scher | Detective |
| Mi-Kyung Yoo | Sidekick |
| Frances Scholz | Commissioner |
| Adele Schlombs | Director of the Asian Museum |
| Jutta Tonger-Erk | Lady at the Front Desk |
| Jonathan Maho | Receptionist |
| Paola Malavassi | Assistant to the Director |
| Jan Höhe | Guard |
| Kasper König | Fu Manchu |
| Clara Steves | Genie |
| Axel Kuhn | Depotmaster |
| Guido Fassbender | Technician |
| Thomas Loerzer | Technician |
| Amy | Dog |
| Louwrens Langevoort | Mayor |
| Walter Soo Hoo | Himself |
| Paul Giamatti | Chief Inspector Nayland Smith |
| Dan Graham | Himself |
| Manu Burghart | Newspaper Reader |
| Dan Hug | Himself |
| Sybille Schedwill | Party guest |
| Christine Urspruch | Cop at Party |
| Sabine Postel | Hauptkommissarin at Party |
| Jonas Mekas | Himself |
| Michael Stevenson | Man with Sign |
| Mark von Schlegell | 2nd. Assistant |
| Luise und Hugo Herbst | Babies |
| Barennie Moon | Violinist in the Bath |
| Amed Kahraman | Masseur |
Made possible with the generous assistance of the following:
Dieter Bähr
Chet Baker
Thomas Bayerle
Wallace Berman
Eldridge Cleaver
Salvador Dali
Marlene Dietrich
Jasmin Döhring
Marcel Duchamp
Dirk Elbers
Dan Graham
Guerzenich Chor
Axel Hill
Claudia Hinz
Miriam Hopkins
Majorie Jongbloed
On Kawara
Mike Kelley
Pierre Klossowski
Kreidler
Günther Lambrecht
Birgit Laskowsky
Christopher Lee
Ernst Lubitsch
Dominik Marx
Eric Mast
Sarah Morris
O-Zone
Francis Picabia
Sigmar Polke
Tobias Rehberger
Sax Rohmer
Rosa & Herkules
Frank und Silke Scholz
Christopher Schwarz
George Segal
Igor Stravinsky
Paul Thek
Rosmarie Trockel
Andy Warhol
Kris Willner
China City Restaurant, Cologne
Greene Naftali, New York
Hof Dannwisch, Horst
Hop Louie, Los Angeles
Kölnischer Kunstverein, Cologne
Monika Sprüth Philomene Magers Berlin London
Museum für Ostasiatische Kunst, Cologne
Museum Ludwig, Cologne
Museum für Moderne Kunst, Frankfurt
Neptunbad, Cologne
Koelner Philharmonie, Cologne
Portikus, Frankfurt
Zirkus Ubuntu, Holstein
Shot on location in:
Cologne, Germany
Comporta, Portugal
Deutsche Bahn, Germany
Düsseldorf, Germany
Frankfurt, Germany
Horst, Germany
Hamburg, Germany
Los Angeles, California
Lisbon, Portugal
New York, New York
Technical Information
China City
Color and Black & White
61 minutes
2010

Shot on Mini DV
4:3
Press